Photos for painted portraits may be sent by mail. Details should be conveyed in writing either by mail or e-mail. Drawings on canvas must be approved by the client before painting begins. This can be done using a digital photo sent back to you by e-mail attachment. Once the painting is complete, final touches MUST be done with the buyer (and preferably the subject) present to take delivery. This avoids endless shipping and reshipping of the portrait back and forth between client and artist for retouch work.


---
Click on image to enlarge.
---
Portraits
are any images dear to our hearts...
| | |
| --- | --- |
| Our home ................... | My hometown, Stockport, Ohio |
Subject matter may also include homes, places of business, automobiles, boats, pets, and literally dozens of other possibilities.

---
Washington State Community College
Past Presidents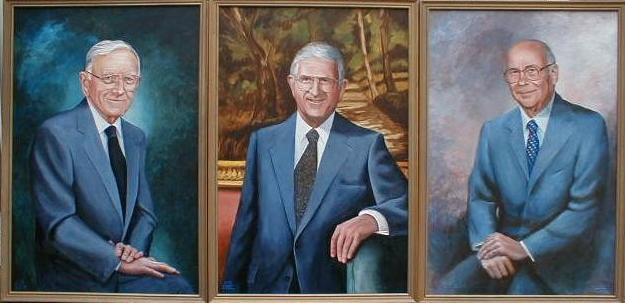 Click on the image for a details on each portrait.
(Each 24"x36" oil & acrylic on stretched canvas) Washington State Community College, where I once taught various courses in art history and appreciation, has never had portraits of its presidents displayed for students and faculty to look up to. Current college president, Dr. Carson Miller and I have taken it upon ourselves to rectify this lapse. Recently finished, these portraits will hang in a prominent location on campus serving as a visual link between past and present administrations. The portraits depict (from left to right) Dr. Harvey Graham, Dr. James Jacobs, and Dr. Donald Neff.
---