Ohio State Football

from the Jim Lane Collection
---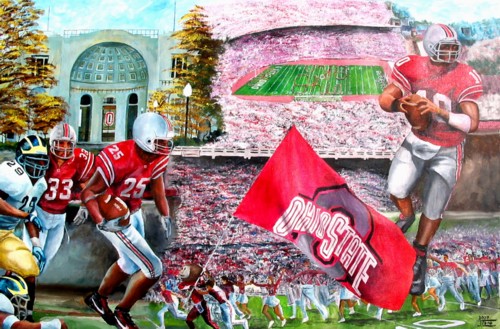 Buckeye Montage © (24"x36") acrylic on Canvas)
Back a couple years ago, before the "Great Recession", I was represented by a now-defunct gallery in Columbus, Ohio, the home of the OSU Buckeyes. Being a shrewd businessman, the galley owner suggested I do a series of paintings featuring OSU football players. Let me confess here and now, I was (and am not) a football fan, though, as a loyal Ohioan, I do loosely follow the native gridiron greats. In order to capture some of the grit and vitality of the sport, I chose to work with a knife, not a brush. I did, however, reverted to the more comforting brush for the painting above. The paintings sold like the proverbial hotcakes. Then, reality set in, the art market collapsed (even for football stuff). These are the items remaining. This one represents sort of the centerpiece of the whole series.
Framed in black . . . . . . . . . . . . . . . . . . . . . . . . . . . . .$695.
---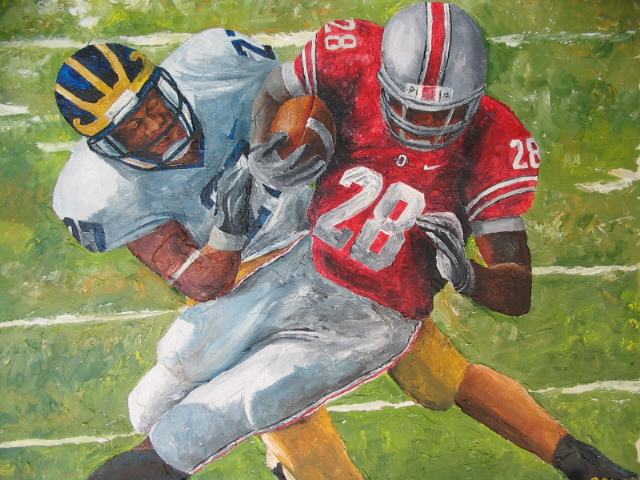 The Big "X" © (18"x24") acrylic on Canvas)
The "X" doesn't refer to the Big Ten Conference but to the dramatic X-shaped composition, which offers the best of both worlds, a sturdy sense of stability and a dynamic sense of movement. The static quality of nearly all paintings is quite at odds with the split- millisecond action one sees on the field. Here, photography is most masterful. The palette knife helps, creating a crude, almost brutal, textural quality and spontaneity; yet even when the artist uses photos to various degrees as I have in this series, just the knowledge that the painting took hours while the photo can do it all in a fraction of a second, puts the painter at a technical and aesthetic disadvantage he or she can't hope to conquor.
Framed in black . . . . . . . . . . . . . . . . . . . . . . . . . . . . . . . .$495.
---
OSU 1 © (16"x20") acrylic on Canvas)

This was probably the first in the series, though I can't recall the exact order in which they were created. In that the others seem to be a tad more adept, I'm guessing that's the case. The technique is somewhat crudely brutal. At least there's little doubt who he plays for. I'm sorry, I don't know enough about football or the 2007 OSU team to identify the player.

Framed in black . . . . . . . . . . . . . . . . . . . .$395.

OSU 2 © (16"x20") acrylic on Canvas)

Here is a striking example of the creation of energetic movement through the use of a starkly unbalanced composition. Despite the static qualities I spoke of before, which seem to be inherent in painting, they can be overcome. This is one method, perhaps the simplest and most obvious, though the artist does have to struggle against the tendency to instinctively strive for a comforting, balanced composition.

Framed in black . . . . . . . . . . . . . . . . . . . . . . .$395.

OSU 3 © (16"x20") acrylic on Canvas)

Painting football doesn't make you a football fan. It does, however, make you somewhat more knowledgeable regarding the uniform and equipment. I've drawn portraits of high school football players for years, but painting football players, especially college players, demands a little more authenticity, especially when the art audience probably knows a great deal more about the sport than I do.

Framed in black . . . . . . . . . . . . . . . . . . . . .$395.

OSU 4 © (16"x20") acrylic on Canvas)

The beauty of painting football is that there are quite a number of stock action poses associated with the game. There are thousands of variations, of course, but even then, they all seem somewhat familiar. I guess, for a price, an artist could struggle against the sameness factor. But then, one risks poses that seem awkwardly outlandish, rather than those exhibiting strength and grace. One doesn't commonly think of beauty and grace with regard to football, but it's there and can be taken captive with a little expeience, luck, and effort.

Framed in black . . . . . . . . . . . . . . . . . . . . . . . .$395.

OSU 5 © (16"x20") acrylic on Canvas)

This painting is a little more "in your face" than some of the others. Nothing like being charged headon by 250 pounds of power-packed pugnacity! I guess that's why I never played football in high school...okay, my school didn't have a football team but...I probably wouldn't have made the team anyway. I was too bookish and nerdy for the sport. I still am.

Framed in black . . . . . . . . . . . . . . . . . . . .$395.


Click Here for
The Jim Lane Collection Archive Reproductions




---
---